Double H Entertainment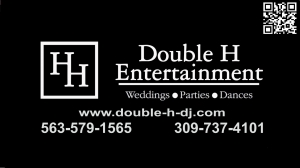 Entertainer is what a DJ is. Again anyone can press play on a CD player but can they get on the mic and entertain the crowd? A great DJ needs to be able to use his voice to engage the crowd.
Music Producer
, 10-02-2014 06:33AM
By: Ian Richard
Awesome guys! Most definitely recommended!
1 of 1 people found the following review helpful
Dj mobile service
, 10-01-2014 09:04PM
By: Dynae Riberdy
I have had Double H Entertainment Dj two Zumba parties for me. They were extremely helpful, kind, and professional, entertaining the parties. I would highly recommend them to entertain an event you are planning. Their lights are amazing and brought life to my events. You are really missing out if you don't contact this company.
1 of 1 people found the following review helpful
Ms
, 10-01-2014 08:08PM
By: Caroline Eakins
Awesome job on my sisters wedding reception very friendly courteous kid friendly helpful and the bride n groom were very happy thanks guys for a wonderful night it will be remembered for many years to come
Quad Cities Weddings Featured Specials