Epiphany Events, Event Management and Planning, LLC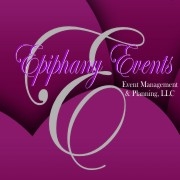 Welcome to Epiphany Events, Event Management and Planning,LLC., a Quad Cities Wedding Planner offering services for all your wedding planning needs. We are pleased to offer a variety of services to fit each individual need. Mention this site and receive a discount on our most popular packages. Contact us today to schedule a no obligation consultation.
Client
, 05-21-2013 10:40PM
By: Kelsey Pisel
Lisa Hunt spent endless hours meeting with me, answering my calls, text messages and e-mails and providing me with countless ideas, advice and vendor information. I was so stressed out thinking that something woud go wrong on our wedding day, but we had no hiccups. This is because Lisa was making sure absolutely everything went perfect.
Mr. & Mrs. Kapsidis
, 01-30-2013 12:38AM
By: Megan (DePorter) Kapsidis
Lisa is amazing! I am a military bride and being prior military she understood that my schedule was constantly changing at a moments notice. She went out of her way to work with me when I had the time. She understood what we wanted for our wedding and we completely trusted her to make most of our choices for us. Lisa is amazing at responding to emails and phone calls. I could send an email and 5 minutes later I would have a response. Our wedding was the most beautiful wedding I have ever seen (and I'm not being bias) and none of that would have happened without Lisa. I am eternal grateful that I decided to email her that fateful day because I wouldn't have had my dream wedding without her! Thank you so much for everything you did for us, you will never know how much we appreciate and love you! :-)
Sales Rep, Isle of Capri Hotel, Bettendorf
, 01-30-2013 12:35AM
By: David Woods
To say that Megan and Bobby were satisfied is a HUGE understatement. If your ears were burning this morning, it's because we were talking about you. I am sure they told you, but they were taking about what a great job you did taking care of them, keeping them on schedule, coordinating EVERYTHING, and it all with a smile and great personality. They truly appreciated your help
Quad Cities Weddings Featured Specials