Le Cake Design Studio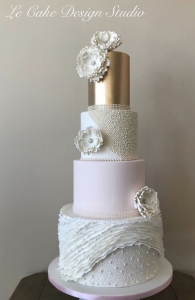 Beautiful AND delicious!
, 04-07-2012 04:22PM
By: Melissa Sjolund
I was so happy to stumble upon Robin's website, not realizing that there was someone in the Quad Cities area making such spectacular cakes. Robin's cakes look like something straight out of a bridal magazine, and while I was going for a somewhat simple style, it looked nothing short of perfect. And tasted awesome as well. Everyone was raving! Thanks, Robin!
cake was best purchase of our wedding
, 01-29-2012 09:25PM
By: The Gierharts
We had Le Cake design our wedding cake. It was our most favorite purchase from the wedding. It was beautiful, tasty, and affordable. We would highly recommend!
BTL
, 01-11-2011 10:31AM
By: Anonymous
The Best in Quad City!
Quad Cities Weddings Featured Specials